Gentle Gazzetta Readers,
This has been a trying year for everyone – marked by hideous politics and tremendous loss. Against the backdrop of horrific national and international news, we've all variously attended and missed memorials for a startling number of important artists, colleagues, and dear friends who have left us one after the other. For me, these days were also densely packed with intense work and creativity. It was, quite frankly, a saving grace to be so continuously distracted from the sad and tragic events by numerous deadlines that compelled me to concentrate on making work. For me, this has been an enormously productive year filled with new projects, compositions, and premieres.
Non-Stop Fall Activities
And, what a busy autumn I've had, what with the premiere of Attention, a commissioned work for Del Sol String Quartet at the Exploratorium, a performance and recording of Björk's "Jóga" for UnderCover Presents' Homogenic tribute at the Independent, and a new architecture-themed work at the Grey Area Foundation as part of the SoundWave Festival, not to mention concerts and visiting artist residencies at art schools and music departments on the east, left, and third coasts.
In September, I spent a week at the School of the Art Institute of Chicago and a few days at Wesleyan University, where I'll be returning in Spring for a more extensive residency. I also went to New York for the taping of John Sanborn's new opera installation, The Temptation of St. Anthony, in which I play the role of "Sal" (the Devil). In October and November, I gave concerts, master classes, and lectures at NYU, UC Irvine, and the University of Michigan. In the midst of that insane schedule, I participated in a delightful project at Center For New Music, performing a condensed version of John Cage's Empty Words as a quartet with Luciano Chessa, Ben Zucker, and Danny Clay, and I showed a six-channel installation culled from my performance work Memory Trace during my live/work building's open studios. The season has been such a whirlwind that I can barely catch my breath. Nonetheless, I'm still planning to finish out the year with a couple of local performances at Center for New Music in San Francisco (with Annë Paiounèn), and at CNMAT in Berkeley (with Christine Bonansea & Jorge Bachmann). Skip ahead if you're chomping at the bit for details.
Coast-to-Coast Inspiration and Artistic Fuel
During my travels, this past season, and my densely packed days in the Bay Area, I was able to catch many concerts and exhibitions, an activity that always fuels my momentum even when I'm exhausted and overwhelmed. At Zellerbach Hall in Berkeley, I saw Baryshnikov's performance of Robert Wilson's Letter to a Man, based on the diaries of Nijinski. His movement is still powerful and precise, and his on-stage presence is electric. And Wilson never fails to concoct a stunningly beautiful, immersive visual world. I also witnessed works by two powerful local movement artists in smaller scale productions – Shinichi Iova-Koga in a collaborative work with Edward Schocker at San Francisco's Noh Space, and Dana Iova-Koga dancing in the Berkeley Art Museum's "Full" series – performing appropriately beneath Felix Schramm's permanent installation of sheetrock shards jaggedly piercing the gallery wall.
I attended a gripping San Francisco Opera production of Janácek's The Makropulos Case with its smart and whimsical set design and strong cast of performers. And I finally made it over to the Minnesota Street Project complex to have a look at the gallery exhibitions and hear a talk by the ever bright and charming Luke Dubois. During the tight time I spent in New York, I managed to breeze through a members-only showing of the Picabia exhibition at MoMA. Then, while at the U of Michigan for a visiting artist residency, I attended a concert of new music by Chris Burns and Trevor Saint featuring generative computer-controlled lighting and algorithmically-cut video. A few days later, I saw an exhibition at the Denver Art Museum showcasing the designs of some of my favorite Japanese avant-couture houses including Rei Kawakubo & Junya Watanabe of Comme des Garçons, Yohji Yamamoto, and Issey Miyake.
Hearts warmed, we carry on...

Experiencing so much inspiring art helps to soothe my heavy heart, as I contemplate the loss of artists Pauline Oliveros, Marion Gray, Barbara Imhoff, Laura Brun, Lise Swensen, and Bill Maginnis, all of whom I considered to be dear friends and colleagues. There was a beautiful extended memorial salon for Marion in October, during which a heartwarmingly endless stream of friends – including many visual and performance arts luminaries – filled her studio (one floor up from mine in our San Francisco, north-east Mission artist building) to drink to her and celebrate her remarkable life. In November, I was also informed of the passing of Barbara Eanes, a music teacher and choral director from my youth, one of the most important early influences on my life as a musician.

All of these artists have left indelible marks on the arts community and the world. The loss of our dear Pauline, for me, felt somehow startlingly unexpected. She was such an ageless and robust being – it seemed like she might live forever. And, in a sense, she will, because her essence is permanently woven into the fabric of our work, our listening, and our lives.
...and move forward
It is with those thoughts that I propel myself forward and continue experiencing work and making work. With even greater resolve, I'll go into the studio and record, give more concerts, compose new works, and embark on new solo and collaborative performance projects.
I'll be spending the first few months of 2017 doing artist residencies at the Robert Rauschenberg Foundation and Wesleyan University, and I suspect those experiences will spark ideas and yield new work. Meanwhile, the specifics of some of the public events I have brewing are detailed below.
Love,
PZ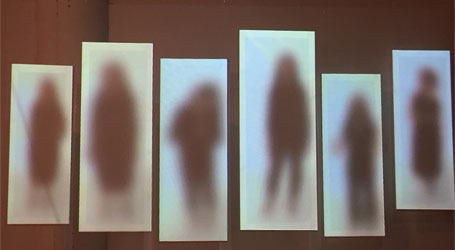 Six-channel video installation taken from a segment of Memory Trace.



PZ with large image of Yamamoto Bustle Coat.

Del Sol String Quartet playing Attention

One of the bronze lions that guard the Art Institute of Chicago's Museum

Elise DeJong, Palina Jonesdottir, and PZ at Otto after NYU concert.

Luke Dubois giving a talk at the Minnesota Street Project.

Mikhail Baryshnikov in Robert Wilson's
Letter to a Man

Tiffany Ng plays Carillon at Uninversity of Michigan

Sile O'Modhrain & PZ enjoying exotic cocktails at Aventura in Anne Arbor.

Dana Iova-Koga dancing at BAM/PFA

Luciano Chessa plays saw at C4NM.

Picabia: Peinture (Pot de fleurs) at MoMA.